UPDATE: Double billings and their impending reversal
A number of you are still waiting on a refund for the recent double-billing of some orders. We have been pressuring Chase Bank daily to resolve this quickly. So it was extremely frustrating to get an update today that they encountered an error this past Friday when working to process refunds.
We requested that they send us a letter to prove to our fellow collectors that this was their mistake. That letter is below. Many of you are patiently waiting to get your money back, and a number of you are upset. And we understand as you have every right to be angry. We have no idea why Chase made this mistake, but we wish we had the power to have fixed the mistake the moment it was made by Chase.
Click on thumbnail to see image at full size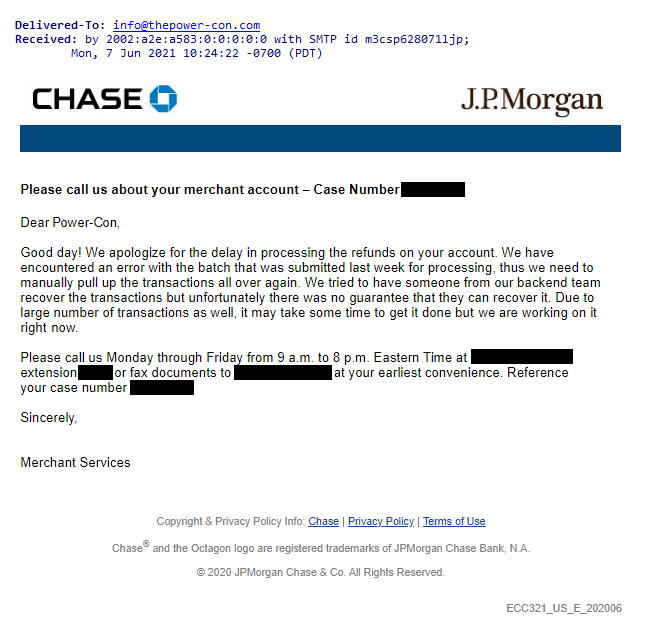 Chase told us earlier that the batch for all remaining refunds will be done today and processed this evening. After that, they said it will take 24 to 48 hours for the money to be sent back to your bank or credit card. When that happens, the speed at which the money will show back on your account will depend on your bank or credit card.
Like we said in our last update, if you have immediate need of the funds, we suggest calling your credit card company or bank and dispute the double-billing charge. This way your bank or card company should be able to return the double-billed funds to you quickly. Please be sure to only dispute the recent double-billing (if you received one)! If you dispute all recent Power-Con charges, you will lose your original order.
Also for people who are experiencing any overdraft fees, when the double-billed funds are returned to you, you should be able to call your bank and request to have those fees removed. For the past ten years, overdraft protection is something a customer has had to enter into voluntarily. But your bank should still be willing to refund that due to the fact that a negative balance caused by this double-billing was not your fault. Please click here to read more about overdraft protection. And again, our apologies that this happened in the first place.