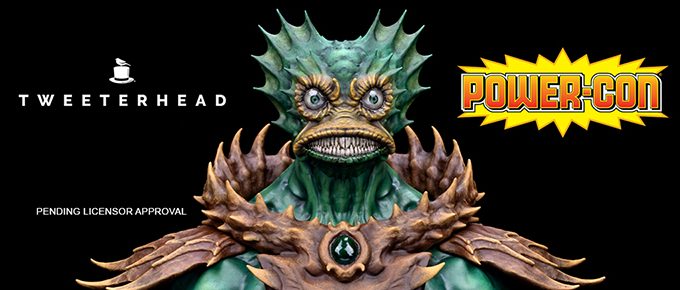 Fully Painted Power-Con 2023 Mer-Man Bust from Tweeterhead
Power-Con ticket and exclusive pre-sales begin tomorrow, Saturday, March 25th at 12pm (noon) Eastern time on the Power-Con website. Click here to visit the Ticket & Exclusive page on our site and we hope to see you at the convention!
And here is the fully painted Power-Con 2023 exclusive Masters of the Universe Mer-Man "Artist Series" 1:5 scale bust from Tweeterhead (pending licensor approval).
The evil ocean warlord has risen from the deeps of the sea to take his rightful place on your shelf. This extremely limited bust is hopefully the first of many "Artist Series" style 1:5 scale busts.
This first one, of Mer-Man, comes from Creative Director David Igo, who has designed and sculpted a series of Concept Busts that helped kick off several of the "Legends" maquettes designs for Tweeterhead. It measures roughly 7.25" tall, 7.5" wide, and 3.25" deep.