UPDATE 2: Double billings and their impending reversal
We were gearing up to announce Power-Con guests and start our countdown to the show. But our focus right now is this double-billing issue. We want to make sure this gets resolved first.
A lot of you are tired of waiting. You're tired of excuses. You're upset with Power-Con. And, we don't blame you! We're now on Day 9 of waiting for Chase Bank to correct their mistake. This whole thing is infuriating as Chase Bank seems unable to resolve this quickly. Ultimately there was only so many "this will get resolved in 24 to 48 hours" assurances we could take from supervisors before this had to be taken to an even higher authority at Chase.
As a result, a new update has been issued. Chase said we should get more precise dates and details on Monday for any refunds that have yet to be released. We were expecting them to call us today with those details. But it seems the department we'd need to talk for that information is in Eastern Time like we are, and they are now closed for the week. The latest thing we were told is that the whole thing was slowed down because the Risk Department had to review the refunds before they could be released, but they are now in the process of releasing the refunds. Which makes no sense to us at all. It's their mistake so why does the Risk Department have to review this? Regardless, here is the latest update straight from Chase Bank:
Click on thumbnail to see image at full size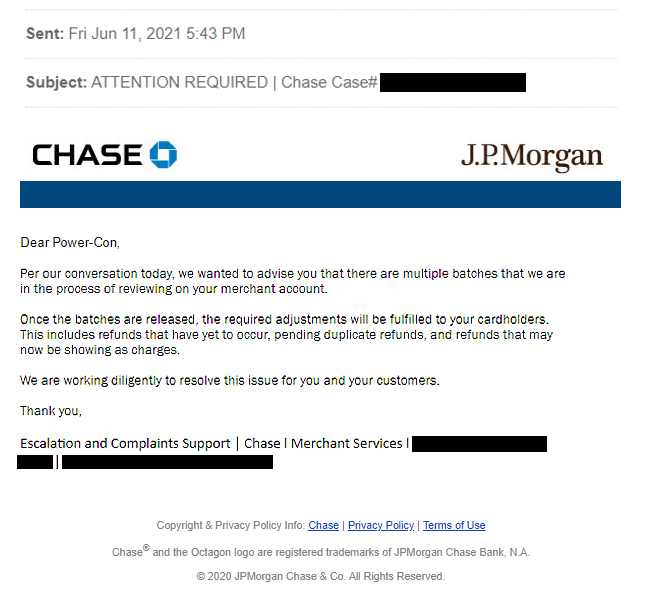 Like we said in our last update, if you have immediate need of the funds, we suggest calling your credit card company or bank and dispute the double-billing charge. This way your bank or card company should be able to return the double-billed funds to you quickly. Please be sure to only dispute the recent double-billing (if you received one)! If you dispute all recent Power-Con charges, you will lose your original order.
Also for people who are experiencing any overdraft fees, when the double-billed funds are returned to you, you should be able to call your bank and request to have those fees removed. For the past ten years, overdraft protection is something a customer has had to enter into voluntarily. But your bank should still be willing to refund that due to the fact that a negative balance caused by this double-billing was not your fault. Please click here to read more about overdraft protection. And again, our apologies that this happened in the first place.